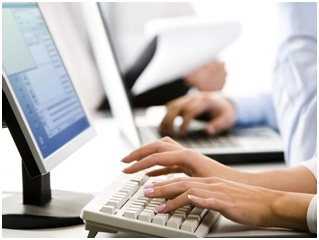 In our previous article, we have already understood that to catch the medical billing nuances fast it is very helpful if the terms that are commonly used in the medical billing jobs are understood first. As a continuation of our efforts to understand the various medical billing terms, in this article, we shall see some more terms that are commonly used in the medical billing industry. Fiscal Intermediary – Fiscal Intermediary (FI) is a Medicare representative who processes Medicare claims.
Guarantor – Guarantor is a party that pays for an insurance plan of a patient but he himself is not a patient.
HCPCS – Healthcare Financing Administration Common Procedure Coding System (HCPCS) is a coding system to explain the various services, treatment and devices used in providing healthcare. These codes are commonly used by medical billers to file health insurance claims.
Healthcare Provider – Entities that provide healthcare services to patients like hospitals, physicians, clinics, nursing homes and all healthcare facilities are called healthcare providers.
Hospice – Hospice is medical care and treatment for inpatient, outpatient or home healthcare for terminally ill patients.
ICD-10 Codes – International Classification of Diseases codes are set of codes that are used to represent the diagnoses of patient medical conditions. These codes consist of 3 to 7 digits.
Managed Care Plan – This is a health insurance plan in which patients are required to consult doctors or hospitals that operate in the insurance company's network only to receive coverage.
Medical Coder – A medical coder is one who is in the medical coding jobs and assigns different medical codes to the services provided by the healthcare facilities.
Medical Billing Specialist – A medical billing specialist processes insurance claims to receive payments for services rendered by a healthcare facility. Professionals in medical billing jobs ensure that the codes and all other critical information entered in the insurance claims are accurate while submitting them to the insurance companies.
Medical Necessity – This term refers to the services a patient requires for the treatment of a serious medical illness or condition and does not include cosmetic or investigative services. Medical Record Number – This is a unique number given to a patient's medical record so that it can be differentiated from other medical records.
Medicare – Medicare is a federal program that provides health coverage if you are 65 or older or have a severe disability, irrespective of your income.
Medicaid – Medicaid is a state and federal program that provides health coverage if you have a very low income.
Modifier – These are CPT codes that are used additionally to explain any alterations or modifications to a treatment or service.
NPI – National Provider Identifier Number is a unique 10-digit number given to every healthcare provider in the USA.
Primary Care Physician – A physician who gives the basic healthcare services for a patient and recommends additional services if necessary for serious treatments.
PEC – Pre-existing condition is a medical condition of a patient that is in existence before receiving coverage from an insurance company.
For a bright prospective career in medical billing in Hyderabad, choose Avontix which is one of the top medical billing companies in Hyderabad.
Acquaint Yourself Further with Medical Billing -Avontix