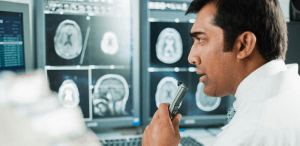 Providing healthcare is a challenging job that commands immense respect throughout the world and physicians and healthcare facilities that are involved in this job do it with great care and dedication. Such a tremendous task is not possible with just physicians and needs the involvement of many other professionals who support the physicians and hospitals round the clock with their invaluable services. There are several professionals like radiologists, pathologists, health assistants, front office staff, and medical billers who work hard to provide quality healthcare to patients. One of the jobs that are not directly related to patients but has a lot of impact on the quality of services provided is that of healthcare documentation specialists. Medical transcription or healthcare documentation is one of the critical allied professions in the healthcare industry that deals with the physicians' notes.
There are numerous medical transcription services companies that provide services to the healthcare facilities by preparing electronic reports for the services rendered by physicians. Healthcare documentation jobs involve listening to the voice files dictated by the physicians and transcribing them into documents in a prescribed format. A medical transcriptionist or healthcare documentation specialist listens to an audio file that is dictated by a physician that includes notes, procedures, and records of a patient treatment, to convert into an electronic form that can be readily used by the healthcare professionals for further requirements. The best aspect of medical transcription is that not only are these reports readily available whenever required by physicians but also, the reports become the digital archives that can be used later any time even by the research organizations to conduct studies related to the healthcare industry.
So, what is the role of a medical transcriptionist? A typical day in the life of professionals in medical transcription jobs involves listening to physician dictated voice files about a patient and transcribing this information relating to ailments, diagnoses, and medication details including the demographic details into a report that is considered a legal document for future purposes. These reports prepared by the transcriptionists are of immense value to the physicians to decide further course of action or when the patient visits for follow up. Further, these medical transcription reports become the basis for the medical coding and billing processes that are also crucial in providing quality healthcare to the patients.
Anyone with good command over the English language and decent understanding of the human anatomy and medical terminology can do exceptionally well in this field, provided the person is ready to work hard and keep updating oneself about the latest developments in the healthcare industry. To help young and aspiring candidates, there are transcription services companies like Avontix that provide in-house training in English language and medicine language to equip the candidates to build a successful and lucrative career in this field.
Healthcare Documentation – A Lucrative Career