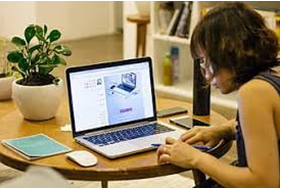 Working from home which was an aspiration for many people not long ago has become the new normal. You might be one of those who are working remotely to keep the business going on without affecting productivity. It is a known fact that working from home comes with its own perks of reduced commute, flexibility in timings, and working from the comfort of your chosen place. However, it is also observed that several people struggle to adapt to the new form of work as they do not get to work in the conventional office set-up where they are guided by various policies and people. To help you, here is a walk-through of the soft skills that can take you a long way in working remotely.
Self-reliance – The first change that comes with the work-from-home option is that you will not have much support from your colleagues who are physically distant from you. This means that you need to become a little self-reliant by learning how to fix things related to your system, managing small issues related to hardware, software, and data security. However, you should know when you need to approach your office helpdesk team without wasting much time on fixing the issue to avoid productivity loss.
Self-management – Along with self-reliance, what you would need the most while working from home is being able to manage things all by yourself. You will not have your boss around you to monitor your work, yet you need to perform your best and present the highest levels of productivity.  It's about managing your
It is not just about putting in the number of hours and giving your best. It is as much about knowing when to log off and maintain a perfect work-life balance. When you work from home, you tend to drag your work much beyond your regular working hours as you don't have to travel back home. However, you must ensure that you don't work in such a manner that it leads to burnout or generates trouble in your personal life.
Communication skills – This aspect plays a key role in any industry and job set-up. However, it becomes all the more important to hone your communication skills when you are working remotely. There are more chances for you to be misunderstood when you are not in front of the person you are conversing with. Hence, you should choose the best medium of communication and apt words to express your ideas thoughtfully. Decide if an email, Skype chat, or WhatsApp message would suffice or you need to pick up the phone to call. Follow the basic communication etiquette and communicate regularly.
Working from home has a host of benefits. At the same time, it throws a few challenges that can be conquered with skills that can be honed in no time with a little patience and will power. Master these soft skills and make your work productive and successful.
Soft Skills You Need to Master to Work from Home Successfully