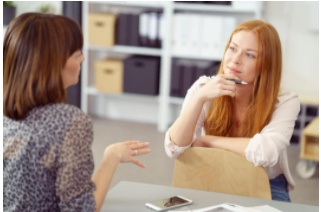 Possessing good communication skills is essential for success in every walk of life and it is all the more important for professional success. Strong communication skills aid in creating a positive experience in whatever we do and also help us grow in the organization by improving leadership skills. Whether we are in a leadership role or not, good communication skills help us in building better teams and being a great team player. So, how can one improve this skill? Here are some easy tips that need to be implemented with dedication and perseverance to improve communication skills that pave the way for workplace success.
Listen: Listening to the speaker attentively is the first step to mastering communication skills because, in two-way communication, one has to properly understand the context to react appropriately. If we are good listeners, we can answer questions more clearly and meaningfully. This helps in fostering fruitful conversations and communication. We ought to listen to the speaker completely until they finish their speech and avoid interrupting. 
Know the other party: To learn to communicate effectively, we should know the person or people to whom we are speaking. We ought to behave and talk depending on the audience we are talking to. This will help us rule out any rude behavior or tone while we are speaking.  In general, it always helps to speak politely and in a pleasing manner with whomever, we interact. 
Give complete information: One of the major problems many people face regarding communication skills is that they do not know how to give information. In order to communicate properly and effectively, it is necessary to share all the required information without missing out any details. Only when we share all the details can the other person think and react appropriately. Reactions and responses based on incomplete and inaccurate information will not be helpful in effective communication and may even lead to misunderstandings. 
Speak less: Giving complete information does not mean overloading the audience with unnecessary and junk information. The goal of any communication should be sharing actual and appropriate information. This can be done with minimal usage of words also and our communication need not be used to showcase our language skills. The way we talk should send across the right message and not confuse the listener. 
Complement with apt body language: We should always remember that our body language plays a vital role in our communication. Hence, we ought to use appropriate body language that complements our verbal communication. Standing or sitting straight and looking into the eyes of the audience while speaking is the golden rule to exude confidence and build trust among the audience.
Communication skills are one of the most important soft skills we have to master to be able to build great teams and positive experiences that help us climb the corporate ladder with ease. Following these tips will definitely improve our communication skills and we can achieve success at the workplace.
Tips to Master Communication Skills for Workplace Success