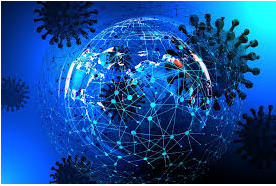 The sudden outbreak of the pandemic called Coronavirus has presented a situation that nobody has anticipated ever. Apart from the health concerns that COVID-19 has brought, a whole range of economic concerns has sprung up. One of the major concerns for all in the healthcare documentation sector is how the industry is ensuring business continuity in these testing times. The present situation is far different from other natural disaster or calamity situations when a particular geographical area is affected and people in other areas are not affected. In such situations, if a particular area is affected, businesses have an option to continue to operate from other locations. However, in this situation when the whole world is affected by the pandemic, businesses are facing the tough challenges of business continuity and business growth.
A blessing that can be counted in this situation is the prediction that the global medical transcription market has the potential to grow by around sixteen billion US dollars during the period of 2020-2024. Here are a couple of the factors that are driving the healthcare documentation growth:
The medical transcription market size is expected to grow at a CAGR of nearly 5% during the period of 2020-2024 which is an optimistic sign for the people in healthcare documentation jobs.
The healthcare sector is using data analytics to improve efficiency and increase revenue and for this, it relies on accurate data that needs to be given by the healthcare documentation specialists.
Although the COVID-19 crisis has impacted numerous patients and healthcare providers and people are delaying their elective surgeries, it is not a permanent thing. The first thing in this scenario is that healthcare documentation companies that deal with the emergency care services will have a good scope of work because of the sudden surge of COVID-19 patients.   The second thing in this scenario is about the healthcare providers who offer surgical services and that too, elective surgeries. Let us first understand what elective surgery is.
Elective surgery:
Elective surgery or elective procedure is a surgery that is planned and does not involve a medical emergency. Elective surgery is a procedure that is required to be performed but need not be done immediately.  Elective surgeries are scheduled in such a manner that they suit the timings of the patient, surgeon, and hospital.  Most of the surgeries performed for medical reasons are elective and they include hip replacements, ligament repairs, cataract extraction, etc. Cosmetic surgeries also fall into the category of elective surgeries.
What is in store?
Numerous leading healthcare organizations and ambulatory surgery centers are postponing the elective surgeries so as to conserve resources to tackle the COVID-19 crisis effectively. However, this is a temporary situation and surgeries would be performed normally when the situation gets controlled. Hence, the people in healthcare documentation jobs specializing in elective surgical procedures need not get anxious. They will resume normal work as and when the situation gets to normalcy.
The healthcare industry is one of those industries that are recession-free. Irrespective of economic conditions, people tend to face healthcare issues that need either immediate or elective procedures/ services. Let's be optimistic that the world gets through this crisis situation strongly and all economies get to normalcy as early as possible.
Affect of COVID-19 on Healthcare Documentation