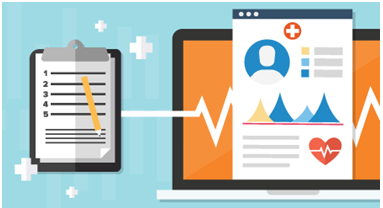 According to some statistics, as of the year 2017, around 95% of hospitals have adopted electronic health records (EHRs) in their facilities. However, it is also seen that the facilities are not putting the EHR systems to full use. Yet, the facilities are using the data from electronic records for various purposes including – monitoring patient safety; measuring organization's performance, improving quality of services; identifying patients with high risk; and assessing if guidelines are being adhered to.
From the statistics, it is being observed that still there is a lot of scope in identifying care gaps and developing well-defined guidelines with the help of EHR systems that can improve the quality of healthcare provided considerably.
Another major thing many hospitals and other small healthcare facilities overlook is the need to comply with complexities of legal requirements under HIPAA and procedures to be followed to protect the personal health information of patients available from the EHR data. The pressure of delivering the best quality of critical services in a consistent manner is the reason behind the physicians' and healthcare facilities' failure to comply with such legal requirements. In an attempt to concentrate on the core services, the healthcare facilities often partner with EHR solutions providers to manage their day-to-day data records and comply with the HIPAA guidelines. This is a great boon for the ever-busy doctors because they need not waste their precious time and energy on feeding data into systems and administrative tasks, rather they can focus on what they can do the best.
Nevertheless, there is one thing that healthcare providers have to be cautious of. They have to be aware of the fact that as per the HIPAA regulations, all the HIPAA covered entities should ensure that any business associate, that has access to the healthcare provider's secured patients' personal health information data, should itself be fully HIPAA compliant. This means the liability of making sure that the EHR solutions providers and other business partners are responsible caretakers of the personal health information of patients that they have access to is on the healthcare providers.
This regulation plays a significant role because there could be dangerous outcomes if a healthcare provider places its patients' personal health information in the hands of irresponsible and HIPAA non-compliant third parties.  Another HIPAA requirement that small healthcare facilities need to understand is that the business associates of a facility covered under HIPAA should sign and operate under a Business Associate Agreement that specifies the conditions under which the associate has access to the patients' personal health information and the tools the associate would use to achieve effective data protection with due HIPAA compliance.
By understanding the HIPAA requirements and choosing the best EHR solutions and providers, small healthcare facilities can rest assured of the best services and compliance of HIPAA regulations.
EHR Adoption and Things You Should Understand