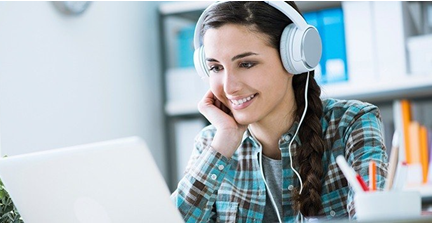 Healthcare documentation specialists or medical transcriptionists create transcription reports from the dictated recordings given by the physicians. They ensure that the reports submitted by them to the healthcare providers are perfect in every aspect because healthcare documentation plays a key role in the quality care provided by healthcare providers. People interested in healthcare documentation jobs can find work in hospitals, clinics, public health agencies, and healthcare documentation companies that provide outsourced services to the healthcare facilities. So, how can one become a medical transcriptionist?
Anyone with an interest in the healthcare industry and a bachelor's degree in any subject can become a medical transcriptionist provided; he/she has good English language skills and has the capability to learn medical terminology along with human anatomy. If you want to make a career in healthcare documentation that involves transcribing medical records you need to enroll for a training program from a reputed organization that provides in-depth knowledge of human anatomy and medical terminology related to the various ailments, diseases, medicines, treatment procedures, medical equipment used for providing care, etc.
There are many healthcare documentation companies that provide excellent training to wannabe medical transcriptionists and also offer them healthcare documentation jobs in their companies after successful completion of the training. The medical transcription training will usually include imparting skills in –
English language: To become a healthcare documentation specialist, one of the basic skills required is having good written English language skills along with good listening skills. This is because the transcriptionists need to listen to audio records dictated by various physicians with different accents, understand them and then transcribe them accurately in the prescribed format.
Medicine language: Medical transcriptionists deal with creating reports about the patient encounters and diagnoses and hence they should be able to understand the medical terminology totally involving human anatomy, physiology, pathology, etc. Only when they are fully equipped with the medical terminology can they create flawless reports.
Computer skills: Healthcare documentation specialists have to work with computers and other tools that are essential for the transcription process and hence they should acquire basic computer skills and learn how to operate the other tools.
Although certification is not mandatory, to get employed with the best healthcare providers or healthcare documentation companies andboostone's career options, it is preferable for the transcriptionists to earn the certifications offered by the Association for Healthcare Documentation Integrity (AHDI) – Registered Healthcare Documentation Specialist and Certified Healthcare Documentation Specialist.
Medical transcription is a great career option for those interested in the healthcare industry and it also provides amazing flexibility to work from home to experienced and skilled transcriptionists.
How to Become a Healthcare Documentation Specialist?