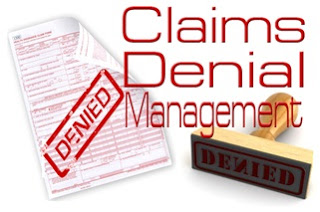 One of the biggest challenges faced by healthcare providers and medical billing industry is the claims denial. Constant changes in various regulations and updates in ICD-10 are resulting in increasing claims denials that prove to be a hindrance to several healthcare providers.
Adequate Monitoring of Denials: Medical billing industry is facing revenue losses to the claims denials. To avoid denials the main requirement is to monitor the regular billing and claim submission processes precise and less time-consuming. The primary goal of professionals in medical billing jobs is to see that the financial stability of the healthcare providers is maintained while the physicians provide the most optimal health care to the patients. One of the most significant and influencing factors in this aspect is achieving proper reimbursement for services provided. Claims denials play a critical role in the financial well-being of healthcare providers.
Monitoring and managing denials of medical claims is an important task for the healthcare providers. But with innovative technologies and software that simplify processes has made the identification of claims denial easier, which reduces the risks and costs associated with denials. With numerous changes in the regulations and different procedures of various insurance payers, it becomes essential for healthcare providers to develop effective strategies to handle insurance claims and manage denials. It gets mandatory for healthcare practices to invest both time and human resources in monitoring and managing the claim denials.
Achieving good revenue generation is one of the goals for every organization, regardless of the type of industry. Professionals in medical billing jobs also cannot ignore this. By following some steps, medical billers can lower the denial rates and improve revenue generation for the healthcare facilities.
Every medical biller has to be aware of the current denial rate. Denial rate and factors associated with denials like reasons, payer company rules need to be understood well so that proper remedial actions can be taken.
Denials can occur due to various reasons for different practices. Medical billers and the related people should b able to understand all the various reasons and these should be mapped into categories and analyzed periodically to identify the root cause of the problem and how it can be overcome.
A claim denial management team should be created consisting of different professionals such as billers, coders, physicians and accountants for collecting and reviewing relevant data which will help create a systematic workflow to monitor and manage the denials.
All the staff that is directly or indirectly related to the documentation and data entry of patient information, billing and claims procedures should be educated and trained to achieve accuracy and minimize errors which lead to claims denials.
Following some simple steps and working in accordance with the various rules and regulations will help in minimizing claims denials and improving revenue cycle of the healthcare providers. Avontix is one of the best medical billing companies in Hyderabad that provides the best medical billing services and revenue cycle management for its clients.
Steps to Minimize Medical Claims Denials -Avontix