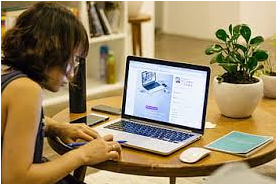 The world has been going through a tough phase since the last couple of months and many people are reeling under tremendous personal and professional pressure. Working from home has become the 'new normal'. All of those who were eagerly awaiting the luxury of working from home, have finally got the opportunity. The lockdown imposed these days across the country has compelled corporates to make way for working remotely. However, working from home is not that easy and people have understood it practically as productivity is the biggest challenge they are facing. Here are some awesome tips to stay productive while working from home.
Create an office ambience – If you think that you can work from home effectively from your sofa or bed, you are mistaken. To stay productive, it is essential to create a home office ambience. Set up a workstation that helps your brain trigger productive work. Even if you can't accommodate a separate room for your office work, you should establish a designated workspace with the required furniture, stationery, and appropriate lighting so that you feel at the office at your home workspace.
Start early – Many people tend to get comfortable while working remotely. They often sleep late and wake up late. This disrupts their work throughout the day. So, the best thing you can do to improve your productivity while working from home is to wake up early like you are going to the office and start work early. It is observed that many people find themselves energetic and efficient in the first hours of the day.
Stick to a routine – When you commute to your office you stick to a routine. So should you when working from home as well. You must create a schedule and start working early so that you don't miss out on your most effective and productive hours of the day. Create your to-do list a day ahead and complete your tasks as per the schedule. And when you finish a task, strike it off to give you a sense of accomplishment and motivation to go ahead and complete the rest of the tasks.
Set a buffer time – You may have to collaborate with different people and teams to finish a project. Collaboration at times requires you to connect with other people through calls, chats, and emails. All these can take up your precious time. Hence, it only makes sense to set a buffer time for every important task so that you don't miss on schedules and deadlines. Setting a buffer time will also help you to attend to your family requirements once in a while since you are working from home. Given that you set a practically viable schedule which includes buffer time, you will not be disheartened about missing deadlines due to losing time on communication.
Keep away from distractions – Set your workspace in such a way that you are not distracted by your family or neighbourhood noises. Keep your social media notifications on mute while you are working to stay away from distractions and focus on work.
Stay healthy – Eat healthy and timely meals and exercise regularly to keep you fit and healthy. Your health should be your topmost priority for both your personal and professional peace. Your body and mind should be perfectly fit to work efficiently.
Only work without any fun can exhaust you. Remember to not let the office work creep into your personal space affecting relations with your family. A healthy and happy life is the basic criteria for a person to produce the highest level of productive work. Maintain a perfect work-life balance and enjoy working from home.
Ways to Improve Productivity While Working From Home