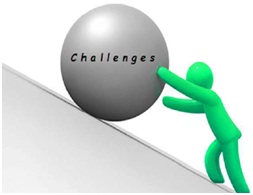 The healthcare industry is a unique business that is different from other businesses as it deals with not a single transaction but a procedure starting from the appointment of a patient with the physician and ending with the patient's account closure. Managing a healthcare facility is a tremendous task which includes vital matters like insurance verification, medical coding, medical billing and collections. Let us take a look at some of the challenges faced by the medical billing industry.
Claim rejections: According to recent studies more than 20% of claims submitted are rejected. And more than a quarter of these rejected claims are not submitted again. If we think about the reasons for claim rejections, we can find two major answers: claims are not received by the insurance payer; insurance payer denies the claims. Usually, the payer denies the claims when there is a defect in the claim with respect to incomplete information or lack of support for the bills.
Denials not re-appealed: It is found that more than half of the denied claims are not re-appealed. Usually, denials are a result of administrative errors and it is a costly and time-consuming affair for a healthcare facility to do the follow-up and re-appeal for payment.
Amount spent on non-core medical matters: Because of old traditional methods followed by insurance payers, most of the transactions involving payers result in a huge amount being spent on non-core medical activities like medical billing, claims processing and revenue cycle management. Health insurers' errors: It is a major concern for healthcare facilities that there is around 20% error rate among health insurance providers which shows their inefficiency at handling insurance claims and results in billions of losses for healthcare providers.
MACRA final rule: In the very near future MACRA is to be implemented and healthcare facilities should comply with the new MACRA requirements. For this physicians should report every patient's treatment via a certified electronic health record to get paid for their services or else they will lose on the payment. Also, healthcare facilities should opt for either alternative payment methods (APMs) or merit-based incentive payment system (MIPS). Along with these, ensuring that all the procedures are coded as per ICD-10 and billed properly is also required.
Bad physician documentation: Many times medical billers are not responsible for the highest level of coding as they do not get appropriate and accurate physician documentation. So, providers should give accurate information to the coders so that billers can properly bill for each and every procedure without undercoding. With these kinds of challenges faced by the medical billers, it is not easy to get ahead in the industry without hard work and perseverance. However, for the people who love challenges and are keen on making a career in the industry that provides the lifeblood for healthcare providers, medical billing jobs in Hyderabad are plenty. Avontix is one of the best medical billing companies in Hyderabad that provides ample scope for growth to its employees.
Visit : Avontix
Challenges in Medical Billing Industry -Avontix