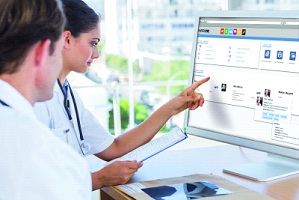 Healthcare industry is such an industry where even a small error can prove to be fatal for someone. In such an industry a lot of care has to be taken in maintaining the records of patients for their immediate use as well as later use which can be helpful in studying the health trends in the country. That's the reason the electronic health records have assumed such an importance in today's world.
Electronic health records are digitalized form of a patient's records that can be accessed by healthcare providers and patients in real time. The EHR solutions facilitate maintaining patient-centered records that have all the details pertaining to a patient's health history. The best advantage of maintaining patient records through EHR solutions is that the collated data of a patient can be shared with a healthcare provider, laboratory and pharmacies in case of need in a short notice at the click of a mouse. All the information related to a patient's medical history is available at fingertips and anyone who needs this information and is authorized to access can retrieve this data very easily from anywhere irrespective of the geographical location.
There are many benefits that can be reaped by employing proper EHR solutions in a healthcare organization.
Accurate and updated information of the patients is available at the point of care at fingertips.
Efficient services can be provided to patients with better coordination as the patient records are quickly accessible.
Whenever there is an emergency or need of information, the data can be shared among the authorized people in a very secure manner.
The readily available patient history enables providing the best healthcare in the safest way by helping the physicians to diagnose and treat the patients quickly and effectively.
The patient data is maintained in a much-secured manner which takes care of the privacy of the patients.
The administrative costs of maintaining paper records can be considerably reduced that help achieving the overall organizational goals.
With these many benefits of implementing electronic health records, no healthcare facility can ignore it. Also, the government rules and regulations have made it mandatory to maintain electronic health records for which healthcare facilities can hire a third party EHR solutions provider like Avontix
Do EHRs Help Healthcare Industry? -Avontix