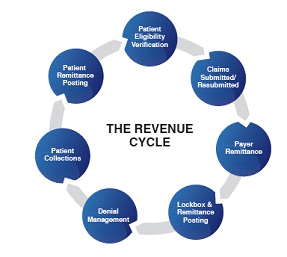 Accounts receivables management is a significant aspect of the revenue cycle management process for any healthcare provider. It is estimated that over 200 million medical claims are denied in the US for various reasons every year. One of the main setbacks in the revenue cycle management process is that most of the denied claims are not followed up properly which leads to losses for the facility. To minimize the claims denials and revenue loss, it is necessary that this process is handed over to a professional RCM services provider, who is solely into the business of dealing with the generation of accurate bills, submission of insurance claims and doing the follow up of denied claims. Avontix provides the best RCM services in Hyderabad for its clients in the US by using the latest software and technology.
Why outsource your RCM? There are many reasons that support outsourcing the RCM services to companies like Avontix. It is more economical to outsource than building own RCM department by engaging additional staff and acquiring the necessary software systems. RCM service providers have experienced professionals who have expertise in all medical specialties and can work on any kind of project. Our experts will meticulously do the follow up for all the claims that have been denied or rejected and help improve the facility's cash flow.
How to improve accounts receivables with denial management? It is a well-known fact that long due accounts receivables heavily impact the revenue cycle and decrease the cash flow. Hence, it is vital that proper and effective procedures are put in place to minimize denials and lessen the accounts receivables. RCM services providers like us adhere to set denial management processes that help in shortening the accounts receivables cycle, thus improving collections.
Better billing processes: We provide end-to-end billing services that have effective processes generated after carefully analyzing various needs of the facility that minimize the probability of denials and reoccurrence of the kind of denials that have occurred in the past.
Dedicated follow up: For every denied claim, it has to be identified why the claim was denied and is it justified. To improve the accounts receivables it has to be ensured that all the missing documents or information that have led to the denials have to be collected and re-submitted with proper follow-up procedures to receive the dues quickly.
Appeals process: It is very important that the denied claims are studied properly and they are appealed again. This is the most significant part of the denial management and has to be handled very professionally. Every possible and available channel for liaison has to be utilized effectively to speed up the appeals process.
Appropriate use of denial management to shorten the accounts receivable cycle is vital for every healthcare provider to increase their billing collections, which can be achieved with ease by outsourcing their billing activities to RCM services providers like Avontix.
Impact of Accounts Receivables on Medical Billing Collections -Avontix