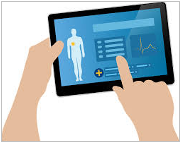 A medical chart is a key component in the maintenance of systematic documentation of a patient's medical history, diagnosis, treatment and care provided. It includes all the significant clinical data and medical history comprising of a patient's demographics, vital signs, diagnoses, medications, treatment, various health issues, allergies, immunization dates, radiology images, laboratory reports, progress notes, and every other detail that can be provided by a physician, nurse, lab technician or any other member of a healthcare team that provides care to the patient. When all these details of a patient are stored in an electronic record instead of a physical paper chart, they are called electronic health records (EHRs).
Accessible in real-time, electronic health records are patient-centered records that provide information about a patient instantly in a secure manner to the authorized users of the records. EHR systems are built in such a way that they provide a broader view of a patient's care than a mere collection of clinical data in a healthcare provider's facility and thus, EHRs have become an integral and vital part of healthcare IT. This is because they just don't store patient information but also offer access to evidence-based tools that help the physicians and other healthcare staff to make reliable and informed decisions about a patient's care.
Implementing EHR systems facilitates automation and streamlining of healthcare providers' workflow because patient health information can be created and managed by multiple authorized people in an electronic form that can be shared across multiple healthcare provider organizations. EHRs are built by the EHR solution providers in such a way that critical patient information can be shared with healthcare providers, laboratories, medical imaging facilities, pharmacies and emergency facilities to provide a seamless workflow across organizations which helps in providing the much-needed care to a patient in times of emergency from anywhere and anytime.
The role of EHRs has become more influential these days with increasing people preferring mobile access to their health records. This is because of the number of benefits EHR systems provide like –
Ability to share information automatically and instantly across different organizations and people
Efficient and secure storage and retrieval of information with due authorized access to people
Ability to link records to relevant sources and research
Standardization of patient care and services across various organizations
Ability to pool large patient data for health management research and studies
Ability to aggregate data to study the quality of care programs run by the government
Elimination of large storage space for physical records
Reduced efforts to create and maintain records and reduced redundancy
Cost-effective in the long term for healthcare providers
It is mandatory for healthcare providers to implement EHR systems which help improving patient care in several ways. Physicians and other healthcare staff have easier and faster access to health information of their patients at their fingertips which provide a comprehensive view and help them diagnose the health problems quicker. Thus, electronic health records help reduce medical errors and offer better scope for healthcare providers to improve patient care and safety.
Implementing EHRs is Beneficial to the Facilities