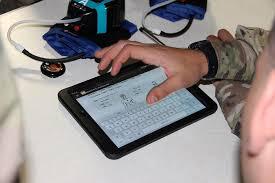 Electronic health records (EHRs) provide real-time patient records and aid in providing higher-quality healthcare and ease the work of patients and healthcare providers alike. They are the better version of the patients' paper charts that contain the medical and treatment histories of the patients. With the advent and enormous use of information technology in all spheres of life, it has become easier for both patients and healthcare providers to record and access critical patient information at their fingertips. Implementation of EHR systems offers wider benefits than just the collection and maintenance of patient data.
EHRs are a crucial aspect of the health information technology containing patients' medical history along with the diagnoses, treatments, immunization dates, allergies, tests and laboratory reports to provide easy access to patient data to the healthcare providers enabling them to make appropriate and timely decisions about patient care. Healthcare facility providers should automate and streamline the implementation of EHR solutions to authorize healthcare providers and other people concerned to access information in the digital format and share it with other healthcare providers if needed.
Electronic health records can be categorized into two categories – server-based and cloud-based. The server-based EHRs are the records that are stored on a network's local server wherein everything related to the EHR systems is stored on the facility's hardware. Cloud-based EHRs are the records that are stored on a third-party-operated remote server which is facilitated by a vendor.
Server-based EHRs: Also called On-Premise EHRs, for these, the hardware, software and data are stored on servers at the facility's location. The responsibility of maintaining, securing the servers, and taking backup regularly is on the healthcare facility. One of the pain points in choosing this type of EHR system is that huge investments have to be made initially on the hardware, software and location to maintain the server, etc. Thereafter, maintenance costs are also unavoidable.
Cloud-based EHRs: In these types of EHRs, the location and hardware are owned by a third-party that provides its services by offering software and storage space for your EHR system. Here, the onus of maintenance of the hardware and regular backups is on the vendor. The benefit of implementing this kind of EHRs is that facilities need not make an upfront investment for the hardware requirements and services can be availed on lease with a monthly fee. However, the disadvantage with these is that they are dependent on internet connectivity.
Both server-based and cloud-based EHRs have their own advantages and disadvantages. Depending on its investment and human resources capabilities, a facility should decide as to what kind of EHRs it would go for and choose the best EHR solutions.
Know the Types of Electronic Health Records