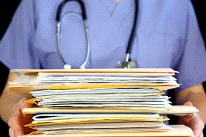 One thing that has led to improvement in the quality of patient care and enhanced the use of technology in the healthcare industry is medical transcription or healthcare documentation. There are a number of medical transcription companies in Hyderabad that have contributed to the growth of repute of Indian companies in healthcare documentation field. These companies have played a crucial role in making India a sought-after destination for healthcare providers in the US for reliable and proficient services.
With the costs of everything rising drastically, there is no exception to this for the healthcare industry as well. In such a scenario, the healthcare industry is facing immense challenges in delivering patient care of high-quality in a cost-effective manner. The EHR solutions and medical transcription services offered by Indian companies are facilitating the healthcare providers of the US in maximizing their reach in providing high-quality patient care.
Medical transcription is the process of transcribing the voice records of the physicians related to the patients' health in a prescribed format. These reports usually consist of the treatment procedures and services provided by the healthcare providers, detailed medical reports and operative reports of patients. These are used later by professionals in medical coding jobs to code all the procedures in the internationally accepted codes that are further used by the medical billers to submit claims to recover payments from insurance payers for the services provided by healthcare providers.
Hospitals and other healthcare facilities in the countries like the US are these days finding it very feasible and cost-effective to delegate these healthcare documentation and medical coding tasks to companies in India that offer outsourced services. These companies in India offer medical transcription services in various specialties like cardiology, radiology etc. as well. Medical transcription companies like Avontix provide excellent and timely services to the healthcare providers in the US with the help of their highly-qualified and experienced employees.
Repute of Indian Companies in Healthcare Documentation -Avontix