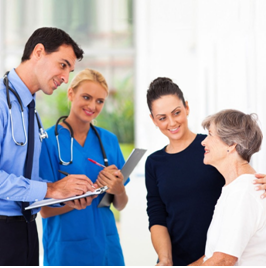 The digital versions of the paper charts are the electronic health records that make it possible to access the patient records instantaneously from anywhere and at any time. These records are stored safely and securely to make them available to the authorized persons who may be physicians, healthcare professionals or the patients themselves. Implementing appropriate EHR systems is really important for a healthcare facility to provide seamless patient care because the electronic health records enable maintenance of patient information confidentially while ensuring continuity in high-quality patient care.
EHR systems contain a lot more information than the patient history; they also record patient allergies, laboratory reports, and other test reports that are vital in providing exact and proper care to the patients. The maintenance of the health records with the help of EHR solutions streamlines and automates the workflow of the healthcare facility to a great extent thereby enabling the physicians and other healthcare support staff to spend more time with the patient and provide quality care.
One of the biggest benefits of adopting the EHRs is the ability they give in organizing patient information accurately and efficiently so that they can be accessed whenever necessary. Another advantage of these records is that information can be updated by multiple users who are authorized across different hospitals, clinics, and diagnostic centers, which brings in better coordination between various healthcare professionals resulting in better diagnoses for better patient care. An interesting aspect about these records is that although the records can be accessed from any place and at any time, they are available to only authorized persons and hence the patient information is stored confidentially and securely.
Another major benefit of these electronic records is the cost-effectiveness they bring while promoting speedy and efficient care because the required investigation and laboratory reports are readily available and the patients need not go for investigations multiple times unnecessarily. Healthcare facilities that adopt the best EHR solutions provide better healthcare to their patients by improving every aspect of patient care and encouraging healthier lifestyles and preventive measures among patients with timely alerts and reminders.
Seamless Patient Care with Electronic Health Records