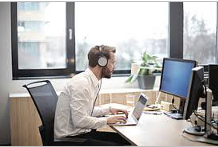 Healthcare documentation is one of those healthcare professions that affect the health of people indirectly. Even a minute error in the transcription reports sent to the healthcare provider can impact the decision making of the physicians and the treatment offered to the patient. Hence, it is vital that the healthcare documentation specialists prepare accurate and flawless transcription reports which facilitate providing appropriate treatment to the patients. To get the job done accurately and in time, it is essential that healthcare documentation companies and medical transcriptionists have the right set of tools. It should be noted that the quality of equipment or tools used will show an exceptional impact on a transcriptionist's efficiency and performance. Here are some of the important tools that you would need as a medical transcriptionist.
Computer system: Every medical transcriptionist, whether working from the office of healthcare providers, healthcare documentation companies or from home; will require a computer system to work on.
Transcription software: The basic work of a medical transcriptionist involves listening to the audio files dictated by the physicians. The audio files consist of patient data including their demographic details, complaints, diagnosis, and treatment offered. To be able to access the audio files of the physicians, it is essential that the healthcare documentation specialists have transcription software installed on their computers. The transcription software provides transcriptionists dictation capabilities, voice and speech recognition applications, interactive directories; spell checkers and other relevant tools that play a critical role in transcribing an audio file into a complete and accurate transcription report. Many software applications have in-built word and abbreviation expanders that can more than double your typing speed. Word expanders help in reducing the number of keystrokes which increases productivity and saves a lot of time as well.
Foot pedals: For many transcriptionists, a foot pedal is an indispensable tool that enables hands-free handling of dictated reports facilitating the adjustment of the speed of the dictated report, and forward or backward movement of the report.
Headsets: Medical transcriptionists can work peacefully and create flawless reports with the help of headsets that increase privacy and confidentiality along with amplified control and reduced noise levels.
Line counters: Line counters aid the medical transcriptionists in keeping a track of lines transcribed. The line counters help in assessing output goals and generating invoices.
Flash drives: Various devices like flash drives/memory sticks help the transcriptionists to store their data and create a back up of their work.
Medical dictionaries: Medical transcription is all about the healthcare industry and hence, transcriptionists may need to refer to medical dictionaries whenever necessary. It is worthy to keep a few medical dictionaries handy and also use online medical dictionaries if required. Along with medical dictionaries, transcriptionists should have access to drug/pharmaceutical books and books that deal with medical speciality if they work on a specific speciality.
Printer: Having a printer and fax machine along with all these tools will help healthcare documentation specialists improve their communication with the healthcare providers or other parties concerned and help in putting up a better performance.
Transcription tools can be selected depending on the workload and comfort levels transcriptionists need or healthcare documentation companies offer. If you are a transcriptionist working from home and you need to choose your tools, choose the ones with high quality that will pay off in the long run although they may be on the higher side of the investment initially.
Equipment You Would Use for Medical Transcription