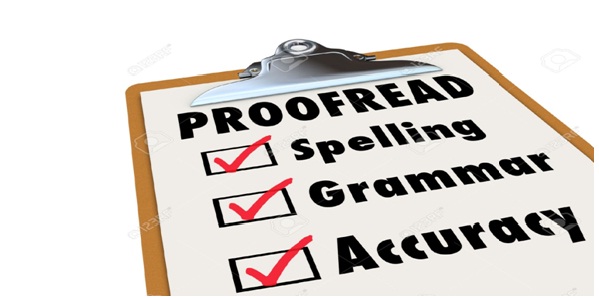 Medical transcription is one career that requires expert skills in both English language and medical terminology. Medical transcription jobs require taking responsibility for one's work and providing accurate reports with minimal supervision. To achieve this, excellent proofreading skills are imperative.
Proofreader's job is to identify and correct the errors in the reports that have been transcribed and ensure that the final report that is sent to the client is accurate. The reports transcribed by medical transcriptionists are prone to errors as the people in medical transcription services listen to the audio files and type simultaneously. This brings the necessity of proofreaders who review the reports before finally sending them to the clients with maximum accuracy levels. To do corrections, one must locate the errors first.
Let us take a look at some of the common errors that are part of Medical transcription jobs.
Omitting dictated words– Typing with speed can result in omission of dictated words that are important.
Selecting wrong words– Due to audio issues, words may be selected wrongly.
Misspelled words– Errors related to spellings are common and these can be rectified with a cross-check. For e.g. words with an 'i' before 'e' like achieve.
Typographical errors– These errors result when a word is spelt wrong by accident. These may happen when a wrong letter is keyed in while typing or when keys are pressed in wrong order. For e.g. 'amd' instead of 'and'.
Grammatical errors– Errors related to grammar are also common which should be avoided with practice.
Punctuation errors– Including or excluding commas, semicolons, hyphens, dashes or quotation marks may change the meaning of sentences. These should be dealt with care.
Homonyms– These are sound-alike words and correct word should be used to get the appropriate meaning that is consistent with the doctor's dictation. Errors of homonyms may occur in both English language and medical terminology.
Like any other skill, proofreading skill also should be developed over a period of time with regular practice and perseverance. Here are some tips from experts in Transcription services to enable you to minimize errors and increase accuracy levels.
Keep a track: Make a note of the mistakes that you realize in your work or that have been identified by your supervisor.
Categorize: Periodically, go back to the mistakes you have done and categorize them into English language and Medical Terminology. Categorize these further into sub-categories related to English (like grammar, spelling and punctuation) and medical specialties (like cardiology, radiology).
Review: Review these mistakes regularly and try that you don't repeat them.
Use references: Use reference books or sites on the internet. Build a library of reference books or bookmark the reference sites for future use. Don't wait until the whole report is finished to lookup for a word that you have to check. Do it as and when required, otherwise it may be forgotten later.
Proofread: Learn to proofread on the screen as you type the dictation. Or else, if necessary take a print copy of the report and proofread as it is easier than proofreading on screen.
Use spellcheckers: Use spellcheckers for both English and medical words along with grammar check turned on. However, remember that errors may occur which cannot be identified with spellchecker also.
Proofreading skills can be improved and polished only with practice and experience. Avontix is the best medical transcription company in Hyderabad that gives opportunities to medical transcriptionists to grow in their chosen career as proofreaders and quality controllers.
Visit: Avontix
Proofreading Tips for Medical Transcriptionists -Avontix